Description
Pall Seitz K Series depth filter sheets were developed to meet the entire range of removal requirements in the food and beverage industry. These sheets are available in multiple grades suitable for microbial reduction and applications requiring fine, clarifying, and coarse filtration of liquids. We serve breweries, distilleries, and cideries in the United States.
Pall depth filter sheets are made in Germany and are an excellent alternative to Eaton BECO and BECOPAD depth filter sheets. Please call us to consult about the equivalent replacement for your current EATON BECO filter sheets.
Why Us?
Quick turn-around time
Exceptional quality
59 years of experience serving customers
Competitive prices
Testimonial
"Once, when we had an emergency … one of their employees hand delivered our order … just to keep us up and running. It's good to know that service like that still exists today."
– Aaron Allen, Brewmaster at Seven Arrows Brewing Company
Read More
Industries Served
Craft Breweries
Cideries
Distilleries
Meaderies
Food Processing
Juice and Syrup Processing
Culinary Oil Processing
Please see the tables below to determine which depth filter sheet best fits your needs. If you have any questions, give us a call and we will be happy to help you make the right selection. All sheets listed are 400mm x 400mm in size, sold in packs of 100 sheets. Grades not listed here may be available on request.
Grade
Applications
Pall Seitz K 900
Pall Seitz K 700
Wine clarification
Particulate filtration for beer, cider, and distilled spirits
Particle removal from fruit juice and tea-based drinks
Prefiltration of juice concentrate
Olive oil polishing
Essential oil clarification
Enzyme solution and sweetener clarification
Pall Seitz K 300
Pall Seitz K 250
Pall Seitz K 100
Polishing of wine
Polishing and bio-reducing for beer, cider, and distilled spirits
Prefiltration of juice prior to final membrane filtration
Haze removal in apple juice
Essential oil clarification
Pall Seitz KS 50
Pall Seitz EK
Pall Seitz EKS
Microorganism reduction and yeast removal in wine
Final filtration for beer, cider, and distilled spirits for microbiological removal
Final filtration of juice and juice concentrate
Microorganism reduction in sugar syrups
Microorganism reduction in enzyme solutions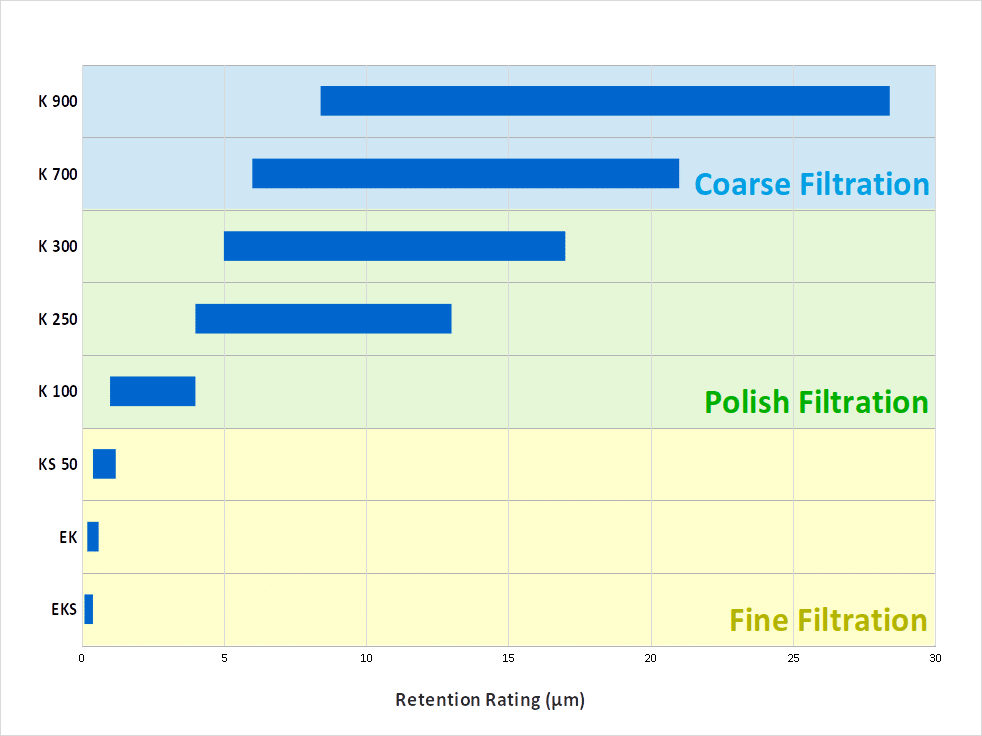 These figures have been determined in accordance with Pall in-house test methods and the methods of the Technical/Analytical Work Group within the European Depth Filtration Association.

*The permeability was measured under test conditions with clean water at 20 °C (68 °F) and a Δp of 1 bar (14.5 psi).