High Efficiency Filters Provides The Maximum Absorption With The Minimum Pressure Drop
With the aid of independent testing, Knight Corporation has designed the new KHE 300 and KHE 500 filter bag series with a unique configuration of variable micron rated special media and micro fiber that uses the entire filter, resulting in very fine particle retention, maximum dirt load and increased filter life.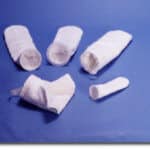 Features:
Low initial pressure drop, high dirt holding capacity and exact particle retention.
Lifting handles are standard for simple and fast removal
No exposed seams, and a cover to prevent fiber migration
Silicone free and made from 100% polypropylene media which is ideal for oil absorption and disposal by incineration
KHE 500 has up to ten layers, including six layers of prefilter media that are individually sealed and inserted into the filter for structural strength and maximum use
KHE 300 is available in ten different sizes and four style tops to fit most filter vessels
All KHE filters are highly efficient at their suggested micron rating. Independent test results are available.