Filter Products Company is a premier manufacturer of filtration and strainer bags for unique applications. Our core focus is serving customers in the commercial food, beverage, and essential oils production, as well as industrial straining, de-watering and petrochemical applications.
Our modular production process allows us to work with customers that require as few as 1,000 pieces, or more than 100,000 bags annually. In addition to filtration fabrics and media for industrial applications, we also offer a full line of materials that meet FDA guidelines under 21 CFR 170.39 for direct contact with food, beverage, and potable water applications.
We have also worked with customers to deliver products that are certified to adhere to Safe Drinking Water and Toxic Enforcement Act of 1986 (also known as California Proposition 65 or simply "Prop 65") for special use applications. By adhering to rigorous raw material selection, product sourcing, and production processes, these products do not require Prop 65 declarations.
Our design and manufacturing expertise ensures that we deliver a solution that meets your specific needs.
Design resources are provided to help you understand what considerations need to be made when selecting or designing a textile strainer solution, as well as the unique design and manufacturing capabilities of Filter Products Company.
Examples of the products that we have produced for our customers are shown below.
Pocket-Style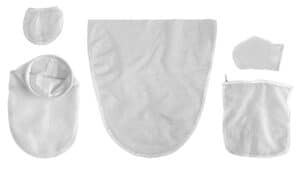 As the name implies, pocket-style bags utilize two layers of media joined around the perimeter. Generally this type of bag has one orifice (usually an inlet) and the substance being removed from the fluid is captured inside the bag and the balance of the flow is through the media. The simple design makes pocket bags cost effective.
Bottle Shaped
This is a specific type of pocket bag that, as the name implies, has a profile that looks like a bottle. The inlet, or neck, of the filter bag is much narrower than the body of the bag. This design can be useful when attaching a filter bag to a hose, pipe, or similar fitting.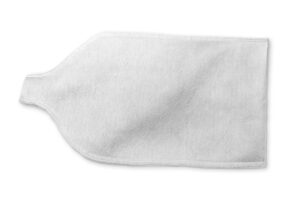 Filter Leaf
A leaf filter is a single filter bag that is part of an array of many filters. Often, individual leaf filters are stacked side-by-side in a vessel and attached to a manifold. The vessel provides support to the individual leaves and prevents them from rupturing while the manifold delivers evenly distributed flow to each identical filter bag. These filters are often a pocket style, though systems designed for very high solids loading may employ gusseted sides. A filter leaf with gusseted sides would be a rectangular semi-solid where the thickness is much smaller than the length or height of the bag, when fully laden
Cylindrical & Flat Bottom
Bags designed with flat bottoms, or additional fabric panels in general, can be designed to address the short-comings of the pocket-style bags noted above. Specifically, seam stresses can be reduced by allowing the fabric to contour to the inside of the vessel or housing (often a structural cylinder). This design also can provide greater filtration surface area which elongates the life of the filter, reduces differential pressure, and allows more removal of target substances from the fluid stream.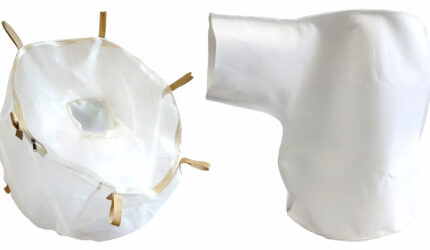 Custom Shape
By definition, a custom shaped bag can be whatever configuration the customer needs it to be. Sized and shaped to fit your application, custom filters also may include lifting loops, handles, closure mechanisms, multiple types of filtration media, reinforcement features, and anything else required to accomplish the task at hand.
Application Specific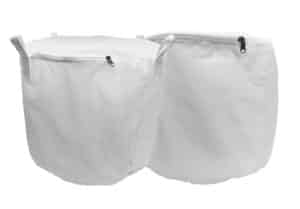 Centrifuge bags or Extraction Column Bags are examples of application- specific bags. Over the past several years, FPC has worked closely with OEMs and processors in the botanical extraction space and designed replacement centrifuge bags and liners for hemp and cannabis extraction. We have ready-made biomass containment bags for the Prospious (formerly Delta Separations) CUP-15 and CUP-30 centrifuges with multiple options for filter media.
We can make closed-top bags, liners, and strainers for other types of light- and medium-duty centrifuges. We do not currently offer bags for high-speed, high-load industrial centrifuges.

Mechanical Features
In some instances, a bag filter must have a tight closure or attach securely to an adjacent structure. Zippers and hook-and-loop fasteners are commonly used in these applications. Buckles, grommets, snaps and other hardware can also be used. Other applications require that the filter attach directly to tubing, pipe, or duct work. Appropriate fittings and mechanical fasteners can be integrated for these applications.
Request a Quote for Custom Filter Bags
Contact Filter Products Company for filter bags customized to your precise needs and specifications. We will respond within 24 hours.