Custom Manufactured Liquid Filtration Bags
Custom-Made. Done Well. Done Fast.
Filter Products Company is your single source for custom-manufactured liquid filtration bags of all types, as well as expert assistance to design a filtration solution for your precise needs. Whether you are looking for one thousand or one million custom filter bags per year, Filter Products Company is here to assist you. Our technical expertise and manufacturing excellence assures top quality and value for you and your end user customer.
In addition to filtration media that are appropriate for industrial and petrochemical applications, we also offer a full line of materials that meet FDA guidelines under 21 CFR 170.39 for direct contact with food, beverage, and potable water applications. We can utilize these filtration materials to manufacture a filter or strainer to your exact specifications.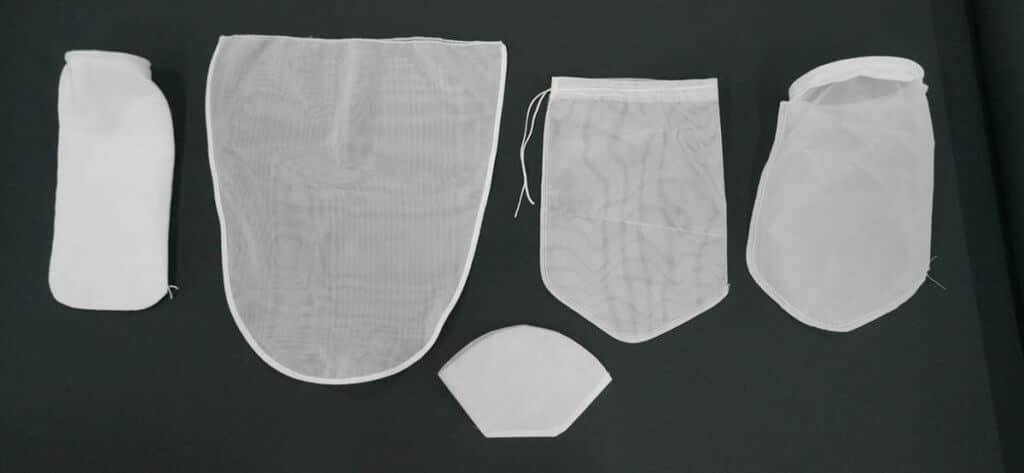 Why Us?
Experts in strainer bag and filter design and engineering
Exceptional quality
Quick and responsive service; proudly serving customers for over 50 years
Competitive prices
Made in the USA
FPC Filter Bags Increase Cheese Line Productivity
A cheese plant's bag filters were operating sub-optimally, clogging too soon, and slowing production. Filter Products Company designed a solution that increased line productivity and lowered operating costs.
FPC Engineers Aquarium Replacement Filter Bags
An aquarium turned to Filter Products Company to develop filter bags for their custom water filtration system. After a small number of low-risk iterations, the aquarium had a product they could confidently order in volume.
Construction Materials
Multifilament and Monofilaments
Polyester
Polypropylene
Nylon
Nomex
Teflon
Ring/Top Options
Drawstring
Elastic
Carbon Steel Rings
Stainless Steel Rings
Plastic Flanges
Plastic Rings
View Mesh Size Conversion Chart
| Mesh | in | mm | Microns |
| --- | --- | --- | --- |
| No. 400 | 0.0015 | 0.037 | 37 |
| No. 325 | 0.0017 | 0.044 | 44 |
| No. 270 | 0.0021 | 0.053 | 53 |
| No. 230 | 0.0025 | 0.063 | 63 |
| No. 200 | 0.0029 | 0.074 | 74 |
| No. 170 | 0.0035 | 0.088 | 88 |
| No. 140 | 0.0041 | 0.105 | 105 |
| No. 120 | 0.0049 | 0.125 | 105 |
| No. 100 | 0.0059 | 0.149 | 149 |
| No. 80 | 0.007 | 0.177 | 177 |
| No. 70 | 0.0083 | 0.21 | 210 |
| No. 60 | 0.0098 | 0.25 | 250 |
| No. 50 | 0.0117 | 0.297 | 297 |
| No. 45 | 0.0139 | 0.354 | 354 |
| No. 40 | 0.0165 | 0.42 | 420 |
| No. 35 | 0.0197 | 0.5 | 500 |
| No. 30 | 0.0234 | 0.595 | 595 |
| No. 25 | 0.0278 | 0.707 | 707 |
| No. 20 | 0.0331 | 0.841 | 841 |
| No. 18 | 0.0394 | 1 | 1000 |
| No. 16 | 0.0469 | 1.19 | 1190 |
| No. 14 | 0.0555 | 1.41 | 1410 |
| No. 12 | 0.0661 | 1.68 | 1680 |
| No. 10 | 0.0757 | 2 | 2000 |
| No. 8 | 0.0937 | 2.38 | 2380 |
| No. 7 | 0.111 | 2.83 | 2830 |
| No. 6 | 0.132 | 3.36 | 3360 |
| No. 5 | 0.157 | 4 | 4000 |
| No. 4 | 0.187 | 4.76 | 4760 |
| No. 3 1/2 | 0.223 | 5.66 | 5660 |
| 1/4 in. | 0.25 | 6.35 | 6350 |
| 0.265 in. | 0.265 | 6.73 | 6730 |
| 5/16 in. | 0.312 | 8 | 8000 |
| 3/8 in. | 0.375 | 9.51 | 9510 |
| 7/16 in. | 0.438 | 11.2 | 11200 |
| 1/2 in. | 0.5 | 12.7 | 12700 |