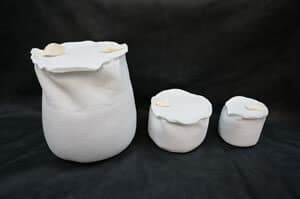 Filter Products Company provides replacement desiccant bags for rebuildable breathers that have been made obsolete by the manufacturer.
Below are the replacement desiccant bag styles that we have in stock. Bags are constructed from the same materials and filled with the same color-changing desiccant beads used in the OE product. Where applicable, we also provide a color changing indication disc.
If you do not see the replacement bag for your application, please contact us using our inquiry form below to inquire about the availability of other rebuildable breather service kits.
Standard Products for Des-Case Rebuildable Steel & Stainless Steel Breathers

Brand

Housing

OE Replacement Desiccant Bag

FPC Part Number

Qty Req.

Price Ea.

Des-Case

DC/CS4
DC/SS4

201166

1

$75

Des-Case

DC/CS6
DC/SS6

201165

1

$150

Des-Case

DC/CS10
DC/SS10

200164

1

$300

Des-Case

DC/CS20
DC/SS20

200164

2

$300

Des-Case

DC/CS30
DC/SS30

200164

3

$300
Please note: The desiccant breather components above are replacements for OE products and are not manufactured by or for the original equipment manufacturer.


Looking for custom made desiccant or vapor filtration solutions, or need rebuild kits Air Sentry desiccant breather products? Fill out the form below and let us know what you need.