Des-Case Oil Transfer Containers provide the first best practice solution to keep oil clean and dry during transfer. Use these containers for topping off reservoirs and storing or transferring small volumes of oil, within ambient temperature ranges of -40°F to 176°F (-40°C to 80°C). With non-desiccant and desiccant breather options available, as well as quick-connects for clean filling, Des-Case Oil Transfer Containers isolate oil from the environment, providing the ultimate in best practice contamination control.
Des-Case Oil Transfer Containers are color-coded as a best-practice way to avoid cross-contamination among different types of oil, as well as to avoid using the wrong oil in the wrong machinery. Dispensing lid spouts, pump lid caps, and pump collars are all available in 11 colors to suit even complex lubricant systems.
Containers:
Industrial-grade HDPE containers will not chemically react with oil or additive packages. Choose from three sizes.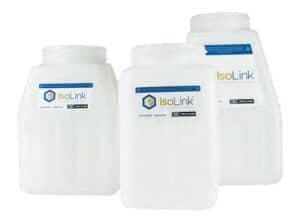 Breathers:
Protect your oil in transit using an optional Des-Case DC-BB desiccant breather or DC-ND-2 non-desiccant breather. These breathers keep water and particulate out of your oil. Use the DC-ND-2 for low-humidity environments only.
Quick-connect Ports:
An optional ISO B quick-connect port allows new, pre-filtered oil to be added to the container without exposing it to the atmosphere. You can alternately order containers with standard ports.
Lid Types:
Des-Case Oil Transfer Containers come with dispensing or pump lids.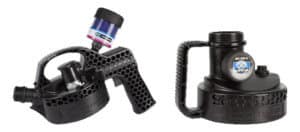 On the pistol-grip dispensing lid, a trigger mechanism keeps fluid isolated, controlling moisture and contamination. The interchangeable spouts can be color-coded for organization. Dispensing lid materials: nylon, 304 stainless steel, steel, Buna-N, and HDPE.
The pump lid allows you to connect a hand pump directly to your container for moving oil to and from the container. This lid can be color-coded with a pump collar or a colored cap. Pump lid materials (including pump): nylon, 304 stainless steel, steel, silicone, PVC, polyurethane, aluminum, and HDPE.
Dispensing Lid Spouts:
The dispensing lid's interchangeable spouts create flexibility and eliminate the need for funnels. The spouts are available in different lengths, tip sizes, and colors, and in either rigid or extended styles.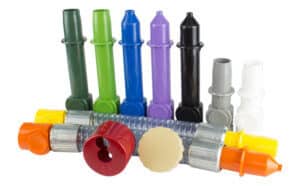 Pumps or Caps:
Order pump lids with removable hand pumps for moving oil to and from the container. Pumps come with hoses in 5′ or 10′ lengths, and tipped with either standard dispensing nozzles or best-practice 1/2″ ISO B couplers. If you choose to forgo a pump, you'll need to order a color-coded cap instead to seal the container.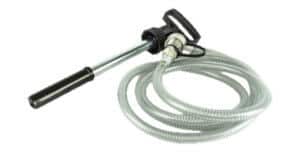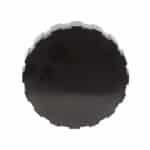 Pump Collars:
Color-code your pump with a pump collar to avoid cross-contamination, as well as to avoid using the wrong oil type.