ErtelAlsop has been an innovator in the manufacturing of depth filter media and liquid filtration machinery since the 1920's. Their uniquely flexible products and services enable process and product efficiencies for a broad spectrum of customers in Life Sciences, Food and Beverage, and Industrial markets.
MicroMedia DE depth filter sheets span the entire range of removal needs in the food and beverage industry and are specifically designed for use in critical applications. These sheets are 400mm x 400mm square and come in grades for microbial reduction as well as fine, clarifying, and coarse filtration of liquids. They also feature high solids loading capacity.
ErtelAlsop MicroMedia DE depth filter sheets are composed of cellulose pulp, diatomaceous earth, and a wet strength resin. This resin gives the media a net positive charge (called zeta potential), which allows for the highly efficient removal of particles smaller than the filter's nominal rating. Wet strength resins are also steam sterilizable and are free of formaldehyde.
All components of ErtelAlsop MicroMedia depth filter sheets are listed in the CFR as generally recognized as safe for contact with food as dictated by 21 CFR 176.170. These sheets also meet USDA Subpart G – 205.605 & 205.606 standards for contact with food labeled as organic.
ErtelAlsop depth filter sheets are an excellent alternative to Pall depth filter sheets, as well as Eaton BECO and BECOPAD depth filter sheets. Please contact us to consult about the equivalent replacement for your current Pall or Eaton BECO filter sheets.
Why Us?
Quick turn-around time
Exceptional quality
59 years of experience serving customers
Competitive prices
Testimonial
"Once, when we had an emergency … one of their employees hand delivered our order … just to keep us up and running. It's good to know that service like that still exists today."
– Aaron Allen, Brewmaster at Seven Arrows Brewing Company
Read More
Industries Served
Craft Breweries
Wineries
Cideries
Distilleries
Meaderies
Food Processing
Juice and Syrup Processing
Culinary Oil Processing
Please see the tables below to determine which depth filter sheet best fits your needs. All sheets listed are 400mm x 400mm x 4.1mm, sold in packs of 100 sheets. However, other media sizes and shapes are available on request. Contact us and we will be happy to help you find the correct media.
Retention Rating
Applications
10 µm (M-104)
Wine clarification
Particulate filtration for beer, cider, and distilled spirits
Particle removal from fruit juice and tea-based drinks
Prefiltration of juice concentrate
Olive oil polishing
Essential oil clarification
Enzyme solution and sweetener clarification
5 µm (M-404)
2.5 µm (M-454)
1 µm (M-504)
0.8 µm (M-504T)
Wine polishing
Polishing and bio-reducing for beer, cider, and distilled spirits
Prefiltration of juice prior to final membrane filtration
Haze removal in apple juice
Essential oil clarification
0.45 µm (M-704)
0.3 µm (M-854)
Microorganism reduction and yeast removal in wine
Final filtration for beer, cider, and distilled spirits for microbiological removal
Final filtration of juice and juice concentrate
Microorganism reduction in sugar syrups
Microorganism reduction in enzyme solutions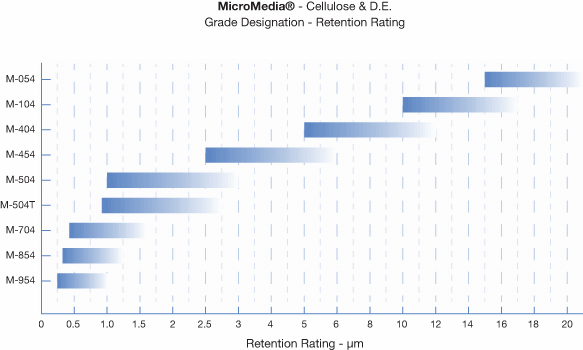 Grade
Retention Rating
μm
Approximate Flow Rate
Gal/ft2/hour
ErtelAlsop M-104
10
1500
ErtelAlsop M-404
5
730
ErtelAlsop M-454
2.5
420
ErtelAlsop M-504
1
200
ErtelAlsop M-504T
0.8
120
ErtelAlsop M-704
0.45
90
ErtelAlsop M-854
0.3
40
The flow rates given above are accurate at 10 psi for clean water at 70ºF.