Description
Maradyne 50 Series Spin-on Filter Heads feature solid aluminum construction to provide strength and durability at mid-range pressures (200 PSI). They accept numerous types of spin-on cartridges to match your application and are compatible with P77 pressure gauges.
Options
Port Sizes – 1 1/4″ NPT or SAE-20
Optional Bypass Valve – Glass fiber filled nylon with 25 PSI cracking pressure, +/- 10%
Technical Specifications
Post Size – 1-1/2" 16 UN 2A
Working Pressure – 75 PSI (5.1 BAR) maximum without by-pass; 200 PSI (13.7 BAR) maximum with bypass
Flow Capacity – 50 GPM (378 LPM)
Operating Temperature – 225°F (107°C) maximum
Fluid Compatibility – Petroleum based oils, high water based fluids, water glycols, and oil/water emulsions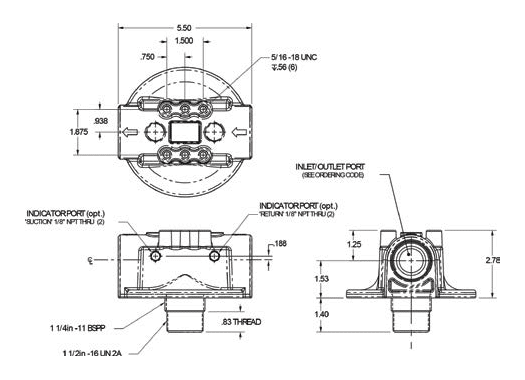 Compatible Elements
Other configurations are available, including bypass valve cracking pressures as low as 3 PSI. Contact us for more information.