Description
Our trade-size NMO woven media strainer bags (or mesh media bags) feature higher flow rates and superior dirt release compared to felt media. Their superior dirt release allows them to be washed and reused numerous times. It also makes them a smart choice for surface retention filtration.
Economical removal of non-deformable contaminates
Less susceptible to fiber release or media migration
Sewn seams standard (contact us for welded collars on bags with flanges)
No minimum order quantity
We also offer woven NMO or PEMU mesh bags in higher micron ratings up to 600 µm.
Sizes
#1 (P1) – 7.06″ dia. x 16.5″ length
#2 (P2) – 7.06″ dia. x 32.0″ length
#3 (P3) – 4.12″ dia. x 8.0″ length
#4 (P4) – 4.12″ dia. x 14.0″ length
Contact us for custom shapes and sizes or for industry-standard sizes not listed here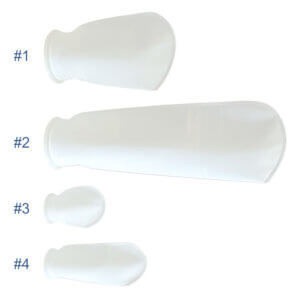 Materials
NMO – Nylon monofilament media is woven from single-fiber threads. The openings are square and uniform. Bags made from monofilament material have excellent strength.
NMO meets FDA regulations for food contact under CFR21, Section 177.1520.
Silicone-free construction.
Broad chemical compatibility.
Ring and Flange Styles
Polypropylene (PP) ring (handles are standard on bags with this option)
Stainless steel (SS) ring (handles are standard on bags with this option)
Drawstring (DS)
F-style (F) flange compatible with Pall and FSI Polyloc® equipment (available for sizes #1 and #2)
P-style (P) flange compatible with Eaton filtration equipment
RP-style (RP) flange compatible with Ronningen-Petter filtration equipment (available for sizes #3 and #4)
OSS-style (OSS) flange compatible with Rosedale filtration equipment


Chemical Compatibility
| Compatibility | Nylon |
| --- | --- |
| Effect of weak acids | None |
| Effect of strong acids | Attacked |
| Effect of weak alkalies | None |
| Effect of strong alkalies | Resistant |
| Effect of organic solvents | Resistant to most common hydrocarbons, solvents, esters, & ketones. |
| Melting temperature | |
| Max recommendable temperature | 350°F |
| Notes | |
Source: Pruett, K. M. (1983). Compass Corrosion Guide (2nd ed.). La Jolla, CA: Compass Publications.
See also the Cole-Parmer Chemical Compatibility Database.